Details

Published: Monday, 22 May 2017 14:57
Written by PIODavNor(Noy Gorgonio)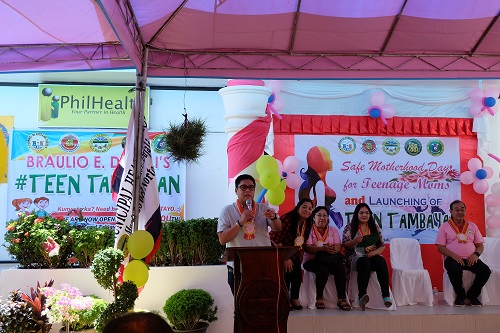 Sunod sa lungsod sa Talaingod, ang gamay'ng lungsod sa Braulio E. Dujali ang ikaduhang pinakadaghang buntis nga bata pa kaayo diin didto sab gipahinabo ang Safe Motherhood Summit ug paglusad sa "Teen Tambayan", Huwebes, Mayo 18, 2017.
Sa surbi nga gihimo sa Provincial Health Office (PHO) adunay sobra 3,000 ka mga batan-ong buntis sa tibuok Davao del Norte ug 19.8% maoy gikan sa B. E. Dujali. Lima lang ka barangay ang sakop niini diin duha ka mga barangay ang nasayran nga 14-anyos ang pinakabata nga nahimong Nanay.
"Nganong ang summit dire gipahitabo dire sa inyoha? The whole Davao del Norte naay 3,000 ka buok teenage pregnancy. That means 24 years old and below. . . 19.8% dire sa inyo sa Dujali nagagikan ang teenage pregnants. . . Ang munisipyo nga number one. . . nga miabot ug 20% sa total pregnants, Talaingod. No wonder . . . maybe can be explained nganong daghang teenage pregnant, sa ilang culture, sa ilang tinuohan. Apan sa Dujali dili ko makahunahuna kun kultura ba ang hinungdan ani nga daghan ta ug teenage pregnancy," nagpanglingo si Doktro Hornido nga misaysay atubangan sa mga batan-ong nanay.
Sa mao ra gihapon nga surbi, namatikdan sa PHO nga usa sa nakaamot sa pagdaghan sa batan-ong buntis mao ang walay pagpakabana sa mga batan-on sa maayong pamatasan kun moralidad.
"Sa survey sa niaging tuig. . . . . naay usa ka practice nga ginahimo karon dire sa probinsya, kanang gitawag nila ug "FUBU". . . gitawag na nila ug Fucking Buddies. Grupo ta, amigo ta unya gusto lang ko'g kalipay, moingon ra ko nga beh r- - - - -o ta. . . Deretso deretso lang, ila nang gusto'g. . kalipay. Unsa'y resulta niana? Daghan kaayo ug teenage pregnancy, daghan kaayo ug sexually transmitted diseases," padayong pahayag ni Provincial Health Officer Dr. Agapito Hornido atubangan sa daghang batan-ong nanay ug mga buntis.
Bisan sa iyang katingala nganong ikaduha ang B.E. Dujali sa teenage pregnancy, mapasalamaton si Mayor Atty. Leah Marie Moral-Romano nga diha sa ilang lungsod gipahinabo ang safe motherhood summit ug ang pinakaunang paglusad sa Teen Tambayan o Teen Center sa tibuok Mindanao.
"Children should not raise children. They should be in school with their friends. That is why we have the activity today. . . we are here to give support, give protection, help you rebuild your life. . .as much as possible the safe motherhood for teenage mothers. . Mao na nga duna ta'y launching nga Teen Tambayan or Teen Centers dire sa atong lungsod. . ang luna diin kung duna'y problema ang mga teen mothers naa sila'y madaganan. . nga dili mo maulaw magpagawas sa inyohang mga problema sa kinabuhi," pahayag sa abogadang mayor kinsa nahimong inahan sa husto na nga edad.
Gipahimangnoan sab ni Gobernador Anthony del Rosario ilabina ang batan-on nga mga Nanay.
"This event is a reminder to every young woman that being a mother is not an easy job. You need to ensure that you have a healthy and active lifestyle since you contribute the most to the proper development of your child. The success of your child's development or the success of his future is greatly dependent on you. It is our goal today to have quality, easy and accessible health facility and health services for every Dabaonon woman and newborn," pahayag sa gobernador labot sa ilusad nga Teen Tambayan nga gitawag sab ug Teen Center.
Gawas sa lokal nga mga opisyales sa probinsya ug lungsod, ang maong aktibidad gitambongan sab sa mga opisyales sa Deaprtment of Health, Population Commission ug ubang buhatan gikan sa rehiyon onse diin ang gilusad nga Teen Tambayan o Teen Center maoy pinakauna sa tibuok rehiyon ug sa Mindanao.