Details

Published: Thursday, 01 June 2017 15:22
Written by PIODavNor (Noy Gorgonio)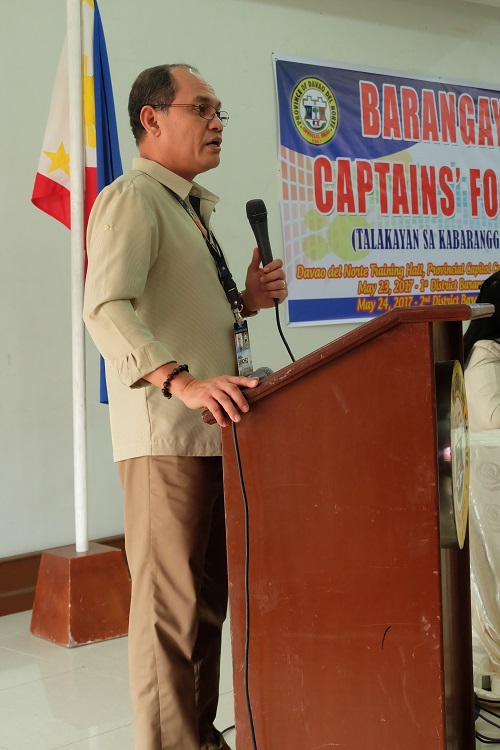 Sa tuyo nga direktang masayran ang tinuod nga kahimtang bisan ang sa hilit nga barangay sa Davao del Norte, gipahinabo sa probinsyal nga kagamhanan ang duha ka adlaw Barangay Captains' Forum Mayo 23 ug 24 aron mapadali ang paghatod sa kinahanglanon sosyo-ekonomikanhong serbisyo.
Gitawag 'Talakayan sa Kabaranggayan,' ang unang adlaw sa forum maoy alang sa taga Distrito I ug gipasabot ni Provincial Administrator Samson Sanchez ang usa sa importanteng katuyoan sa panagtapok.
"Sukad pag-assume niya niadtong July, nakita niya nga ang atong programa sa probinsya ug ang kalihokan sa barangay dapat maghaom. Ug usa sa pamaagi nga kailangan ma-dovetail ang atong kalihokan ug proyekto pinaagi niining forum, aron masayod direktamente ang mga kapitan sa programa sa probinsya," pasabot ni administrador Sanchez labot sa tumong ni Gobernador Anthony del Rosario sa panagtapok sa 223 ka mga kapitanes tibuok probinsya.
"Dunay mga programa ug proyekto sa probinsya nga direktamente maykalabotan ang barangay. Tungod niana giimbitar nato ang pipila ka mga key officers nga directly gyod mag-inform sa inyoha aron dili ta magbalik-balik pag-abot sa panahon unsang mga rekisitos nga kailangan, kadtong mga proyekto nga inyong gipangayo mahatod gyod ug ma-implement," padayong pasabot ni Sanchez.
Ang mga opisina sa Provincial Engineers Office (PEO), Provincial Planning and Development Office (PPDO), Provincial Disaster Risk Reduction Management Office (PDRRMO), Provincial Agriculture Office ug ang presidente sa Federation of Association of Barangay Captains (FABC) direktang nagpasabot ug nagtubag sa pangutana sa mga kapitanes.
Kadaghanan sa mga pangutana sa unang adlaw sa forum nagsentro sa mga imprastruktura nga anaa sa matag barangay gikan sa daot, lubak-lubak nga karsada ug daot, nabali nga mga tulay. Pipila usab nagpakisayod sa kinahanglanong mga dokumento aron makakuha ug pondo gikan sa nagkalain-laing ahensya sa gobyerno.
Ang Davao del Norte gilangkoban ug 223 ka mga barangay nga nabahin sa duha ka distrito ug giisip nga mao ang pinakaunang linya sa depensa sa komunidad ilabina panahon sa kalamidad.
Sa 93 ka mga barangay sa Distrito I, gitambongan ug 85 ka mga kapitanes ang unang adlaw sa forum ug ang lungsod sa Kapalong diin adunay 14 ka mga kapitanes ang adunay 100% nga attendance.