Details

Published: Thursday, 23 November 2017 10:53
Written by PIO DavNor (Noy Gorgonio)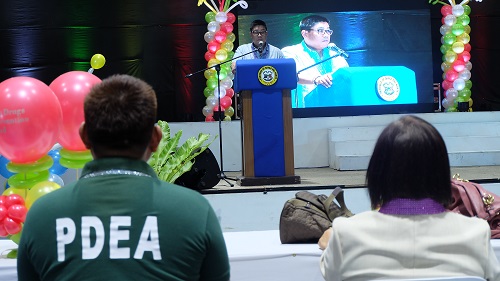 Problemadong pamilya, kulang sa hustong edukasyon ang nagtukmod sa daghan ngadto sa pag-abuso sa ginadili nga droga.
Kini ang duha ka pangunang hinungdan nga gihisgotan ni Gobernador Anthony del Rosario atol sa pag-timaan sa probinsyal nga panggamhanan sa Davao del Norte Drug Abuse Prevention and Control Week Martes, Nobyembre 21 uban sa tema "Ang Pakikinig sa mga Bata o Kabataan ay Daan Upang Tulungan silang Lumaki na Malusog at Ligtas."
"Almost all drug users mogamit gyod na sila'g droga kay naa sila'y problema. The contributing problem really is family. . . Basta gani naay problema ang pamilya, dako na gyod nga porciento, ang tsansa nga mag-droga na gyod ang mga bata. It's also a factor of not having proper education," pasabot sa gobernador.
Nga naka-obserbar sa gihimo sa 2017 Galing Pook awardee General Santos City labot sa ilang programa sa pagtabang sa mga biktima sa ilegal nga droga, buot usab ipahimutang ug palapdan pa ni Gobernador del Rosario ang maong pamaagi dinhi sa Davao del Norte.
"Mao na ang programa didto sa GenSan. Ang ilahang program didto is to ensure nga ang tanang mga kabatan-onan makahuman gyod ug eskwela. . .The long term solution maybe to this problem is ensuring that our children grow up in loving homes and our effort to finish their studies. Kay pag makahuma'g eskwela, . . mas daghan oportunidad. Mas gamay ang problema pag mas daghan ang oportunidad," padayong pahayag sa gobernador.
Midugang si Gob del Rosario nga kinahanglanon gayod nga mawala ang panginahanglan sa droga.
"To eradicate drugs is not the elimination of supply. It is the elimination of demand. Kay kung wala na'y gusto mogamit ug drugs, bisan pag daghang drugs available diha wa gyod mopalit ana kay wa may demand. So PDEA and all the other agencies will take care of the supply. Kita sa local government sa province, sa munisipyo, sa barangay we should focus on the eliminating the demand. And the only way to do that is make sure that 1- our children live in happy homes; number 2 make sure that our children finished school. That's really the solution there," padayong pasabot ni Gob del Rosario uban ang paghatag pasabot nga hatagan gayod kini ug prayoridad sa iyang administrasyon.
"Kinsa may mga ginikanan dire? Halos tanan ginikanan. I think you all know what I am talking about. . Therefore if we all know that this is the problem, then it's easier for us to work together to work the problem. So therefore let us do that. . . this should be and will be a priority to the province. We will study the program that Mayor Rivera has started and try to enhance it so that we can be more effective. . Sayang ang panahon. We're not here forever. The point is while we're all still here, we should all work together to ensure that our youth are properly developed,"pag-awhag sa gobernador alang sa pagtinabangay.
Sa bulan sa Disyembre 2017, ipahimutang na ang bag-ong opisina nga Provincial Sports and Youth Development Office nga magtutok dili lamang sa paugnat sa kusog kundili sa pagtabang sa mga batan-on nga mapauswag ang ilang kinabuhi.
"On Dec 1 pag ma-activate na ang opisina sa Provincial Sports and Development Office we will talk about how to properly develop our youth in Davao del Norte," pasalig ni Gob del Rosario.