AN ORDER EXTENDING THE EFFECTIVITY OF THE MODIFIED GENERAL COMMUNITY QUARANTINE (MGCQ) IN DAVAO DEL NORTE PROVINCE UNTIL 31 MAY 2021 AND PROVIDING AMENDATORY AND SUPPLETORY POLICIES AND GUIDELINES THEREFOR

WHEREAS, Section 15 Article II of the 1987 Constitution provides that the State shall protect and promote the right to health of the people and instill health consciousness among them;

WHEREAS, the Coronavirus Disease (COVID-19) global pandemic as declared by the World Health Organization continues to be a very serious threat to public health, which has already affected the lives of the Filipino people and disruption in the economy;

WHEREAS, the Inter-Agency Task Force for the Management of Emerging Infectious Diseases (IATF-EID) has implemented community quarantine restrictions of varying levels nationwide to counter the further spread of the virus in other areas of the country;

WHEREAS, Davao del Norte Province continues to be under the Modified General Community Quarantine (MGCQ) until 30 April 2021 as recommended in the IATF Resolution No. 107-A dated 29 March 2021.

WHEREAS, while deployment of COVID-19 vaccines in the Province through the National Vaccination Program is ongoing, continued implementation of proactive measures and restrictions must be put in place to slow down the surge in COVID-19 cases, stop further spread of variants, buy time for the health system to cope, and to protect more lives;

WHEREAS, Section 16 of the Local Government Code states that every Local Government Unit shall exercise the powers expressly granted, those necessarily implied therefrom, as well as powers necessary, appropriate or incidental for its efficient and effective governance, and those which are essential to the promotion of the general welfare;

WHEREFORE, to strike a balance between public health and the economy, maintaining the Province under its present quarantine classification is considered reasonable unless otherwise recommended by IATF-EID;

NOW, THEREFORE, I, EDWIN I. JUBAHIB, Governor of the Province of Davao del Norte, by virtue of the powers vested in me by law, do hereby order the following:

Section 1. Declaration. It is hereby declared that the Province of Davao del Norte shall remain under Modified General Community Quarantine (MGCQ) until 31 May 2021.

Section 2. Policies and Guidelines. The policies and guidelines as provided under Executive Order No. 07, s. 2021 (as duly amended by Executive Order No. 07-A, s. 2021) shall remain in full force.

The following amendatory and suppletory policies and guidelines shall also apply during the extended MGCQ in the Province, pursuant to Section 5 of IATF Omnibus Guidelines on the Implementation of Community Quarantine in the Philippines (with amendments as of 15 April 2021).
2.1.1. Section 2(5) of Executive Order No. 07, series of 2021 shall now be read as follows:

Indoor and outdoor non-contact sports are allowed. Non-contact sports shall refer to a sport or activity in which participants are physically separated throughout its duration; thus, minimizing the possibility of making any form of purposeful or accidental physical contact.

2.1.2. Section 2(6) of Executive Order No. 07, series of 2021 shall now be read as follows:

Gatherings shall be allowed up to 50% of the seating or venue capacity. Provided, that participants shall strictly observe the minimum public health standards, and the establishments or venues where the gathering will take place shall strictly comply with ventilation standards as provided for under relevant issuances of the Department of Labor and Employment (DOLE).

2.1.3. Section 2(7) of Executive Order No. 07, series of 2021 shall now be read as follows:

Face-to-face or in-person classes for basic education shall be suspended. The basic education sector shall operate in accordance with the guidelines of the Department of Education (DepEd).

Limited face-to-face or in-person classes for higher education and technical vocational education and training may be allowed, subject to the guidelines of the Commission on Higher Education (CHED) and Technical Education and Skills Development Authority (TESDA), respectively.

2.1.4. Section 2(13) of Executive Order No. 07, series of 2021 shall now be read as follows:

Agencies and instrumentalities of the government shall be fully operational, and shall operate at a minimum of 50% up to full on-site capacity as determined by the head of agency, in accordance with the relevant rules and regulations issued by the Civil Service Commission (CSC
2.1. Amendatory Policies and Guidelines

2.1.5. Section 2(14) of Executive Order No. 07, series of 2021 shall now be read as follows:

Officials and employees of foreign diplomatic missions and international organizations accredited by the Department of Foreign Affairs (DFA), may operate at full on-site capacity;

2.1.6. Section 2(21) of Executive Order No. 07, series of 2021 shall now be read as follows:

Cockfighting and operation of cockpits, except for the sole purpose of conducting e-sabong licensed and regulated by the Philippine Amusement and Gaming Corporation shall not be permitted to operate, work, or be undertaken during MGCQ.
2.2. Suppletory Policies and Guidelines

2.2.1. All private offices may be allowed to operate anywhere between 50% to 100% on-site capacity, while encouraging work-from-home and other flexible work arrangements, where applicable.

2.2.2. Without prejudice to the implementation of DavNor QR Code, law enforcement agencies shall recognize any of the following IDs:

a) IATF IDs issued by the regulatory agencies with jurisdiction over permitted establishments or persons;
b) Valid IDs or other pertinent documents issued by accredited organizations or establishments allowed under MGCQ; and
c) If required by the LGU, local IDs for availing of essential goods and services.

No other IDs or passes specifically exempting persons from community quarantine shall be required of workers of permitted establishments and/or offices without prejudice to requiring the presentation of other documents establishing the nature of their work.

2.2.3. The following establishments, persons, or activities shall not be permitted to operate, work, or be undertaken during MGCQ:

a) Entertainment venues such as karaoke bars, clubs, bars, concert halls, and theaters;
b) Fairs/Peryas, kid amusement industries such as playgrounds, playroom, and kiddie rides; and

The foregoing is likewise without prejudice to the authority of DTI to issue a negative list of industries which shall remain prohibited even in areas under MGCQ.

2.2.4. The movement of cargo/delivery vehicles as well as vehicles used by public utility companies shall be unhampered. Shuttle services of permitted establishments shall not be subject to an ID System but shall maintain compliance with the minimum public health standards.

Section 3. Penalty Clause. Any violations of the foregoing provisions shall constitute non-cooperation of the person or entities punishable under Section 9 par. (d) or (e), as the case may be and under our existing laws, ordinances, rules and regulations.

Section 4. Effectivity. This Executive Order shall take effect on 01 May 2021 and shall remain in full force unless revoked or rescinded.

ISSUED this 30th day of April 2021, in Tagum City, Davao del Norte Province, Philippines.



EDWIN I. JUBAHIB
Governor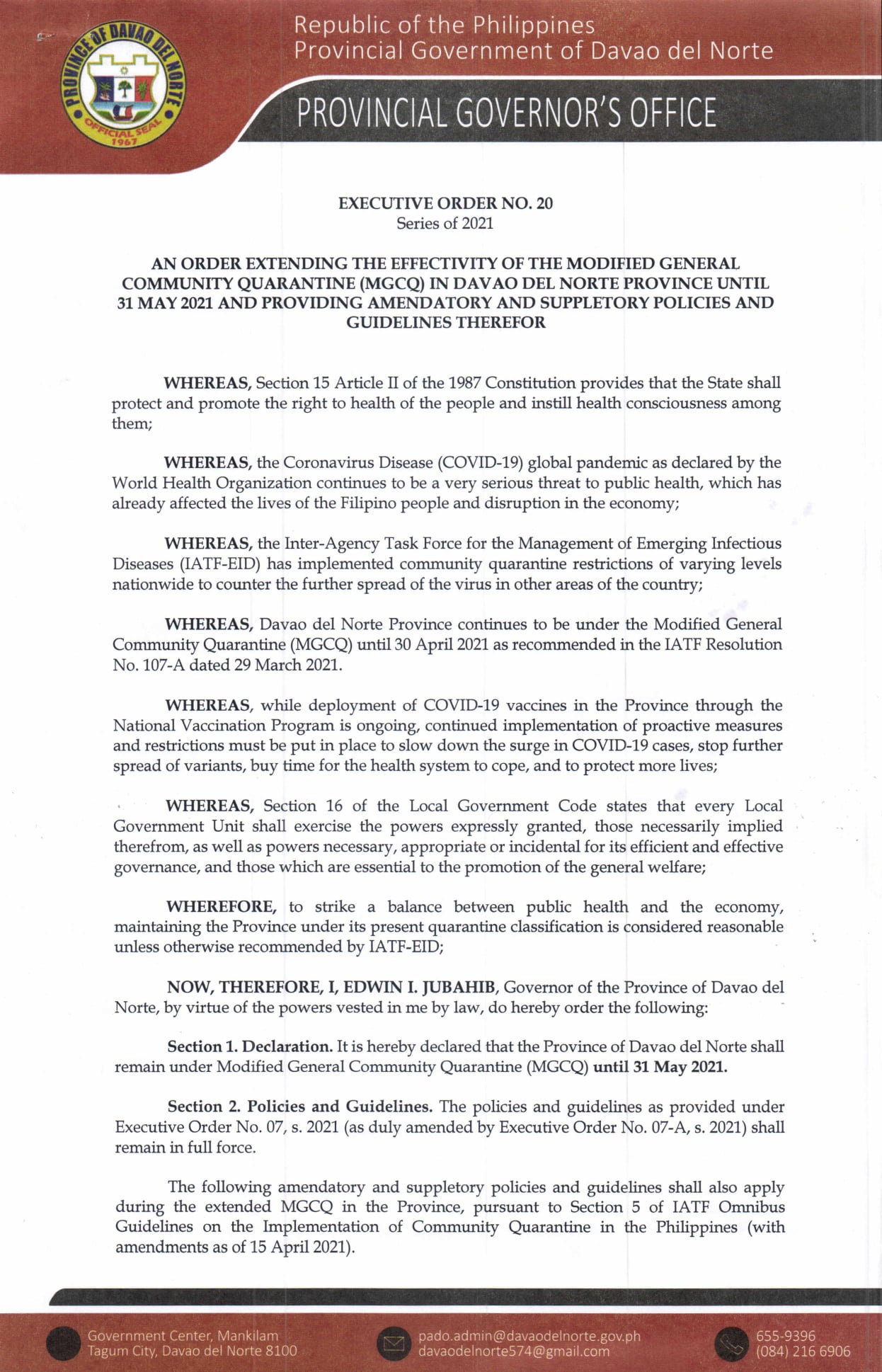 KAAGAPAY orientation at Lungaog, Sto. Tomas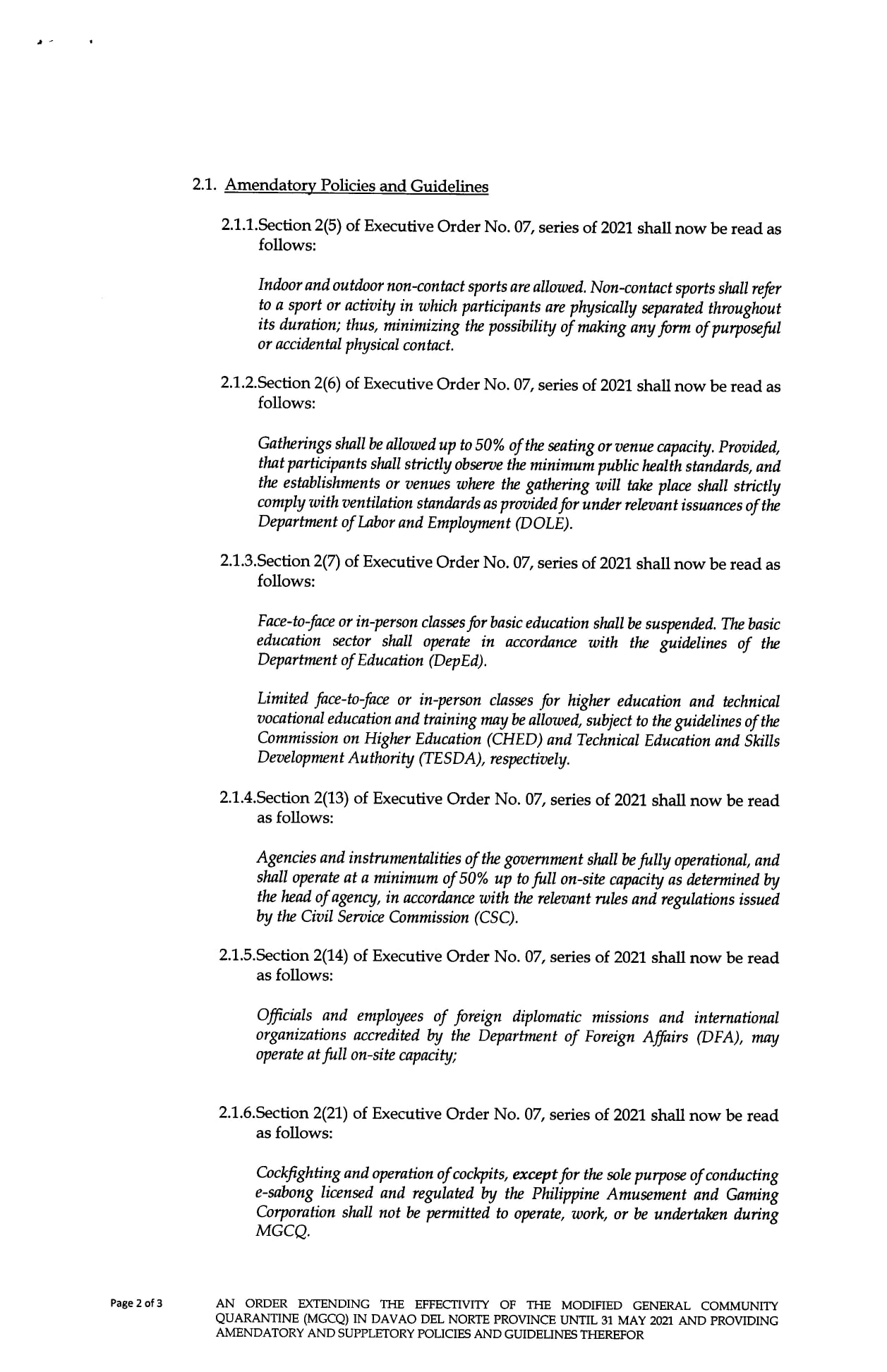 at New Katipunan, Sto. Tomas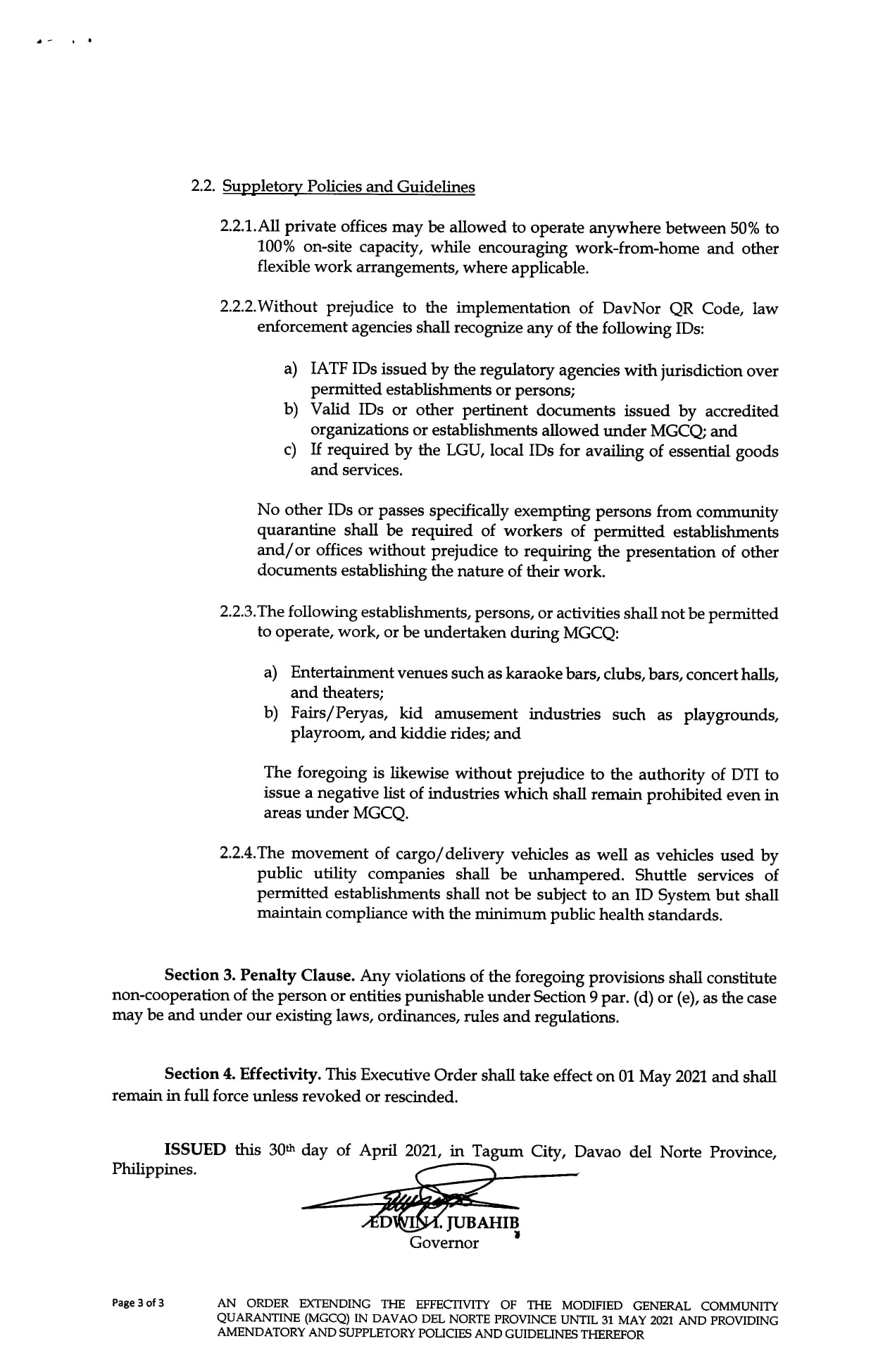 at San Miguel, Sto. Tomas KAAGAPAY community organizing orientation