Davao del Norte – A new road project in the pipeline promises socio-economic prosperity to an isolated tribal village, which was deprived of government services for over a century.
Governor Edwin Jubahib revealed the availability of P150 million from the national government to open an access road to the farthest indigenous people community of Sitio Tapayanon, Gupitan, Kapalong, this province.
"Duna nay P150 million para sa pag-abli sa dalan padulong Tapayanon gikan kang Presidente Rodrigo Duterte, pinaagi sa DPWH (A budget of P150 million is now available from the president for the Tapayanon road, through the DPWH)," the governor said during a recent media interview.
The 20-kilometer road project, which is hoped to commence later this month or in early September, will link the geographically-detached village from Sitio Tawini-an, another Lumad community also in Barangay Gupitan.
Jubahib stressed the access road will hasten government interventions in bringing basic services and genuine development to Sitio Tapayanon, over a hundred kilometers northeast of the capital city of Tagum.
The IP village is separated from the rest of the province by about a week trek through the tropical jungle and more than a two-hour trip to the town center.
Public officials, government personnel and representatives of non-government organizations, together with their supplies, food packs and donations, had to be transported by military choppers, during the 3-day service convergence in the area late last month.
Tribal Chieftain Datu Bansing Balanban sees the proposed project as a lifeline of their disadvantaged community, which has become a communist lair for decades.
He said the road will not only link their remote community to the markets, but will directly connect them to improved services and a better future, as well.
"Mas dali na namo mabaligya ang among mga produkto sama sa abaca, mais, ug mga lagutmon. Mas dali na sa amoa ang pagpalit sa asin ug asukal ug sa pagdala sa kauban namo nga nagsakit sa hospital (It will be easier for us to sell our products like abaca, corn and root crops. It will be easier for us to buy salt and sugar and to bring our patients to the hospital)," he said matter-of-factly.
60th IB Civil Military Operations officer 1Lt. Amadeus VJ Celestial said that aside from bringing in more services to the underserved tribespeople, the proposed road project is very valuable to the government's peace effort, as well
"Makatulong ito sa national effort natin for peace… This will jumpstart the development of the whole conflict-affected boundary of the three regions," he said, noting the strategic location of Sitio Tapayanon being at the center of Northern Mindanao, Davao Region and the Caraga Region.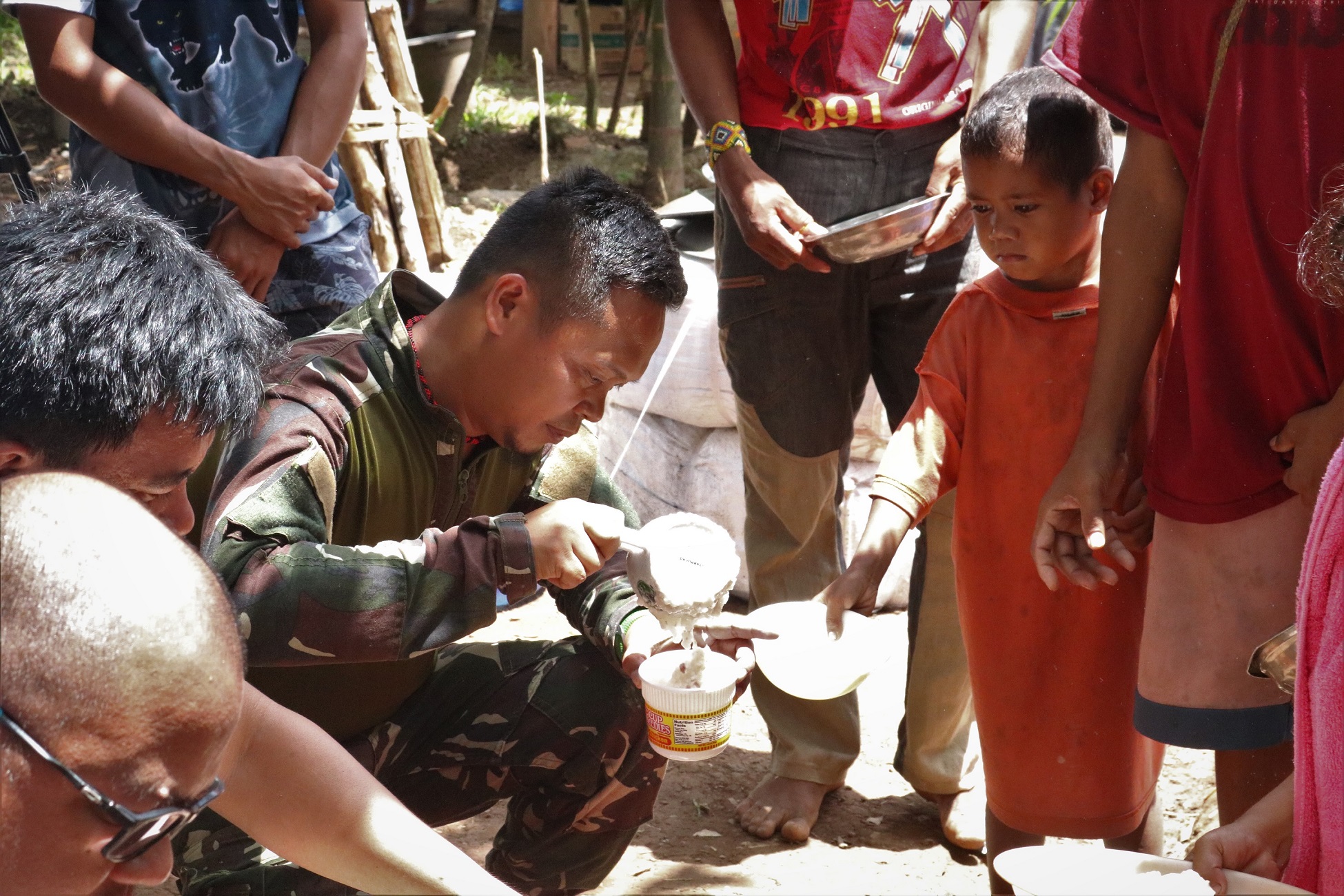 1Lt Marlo Passion leads the feeding program for the isolated Lumads of Sitio Tapayanon, Gupitan, Kapalong Davao del Norte. Nobags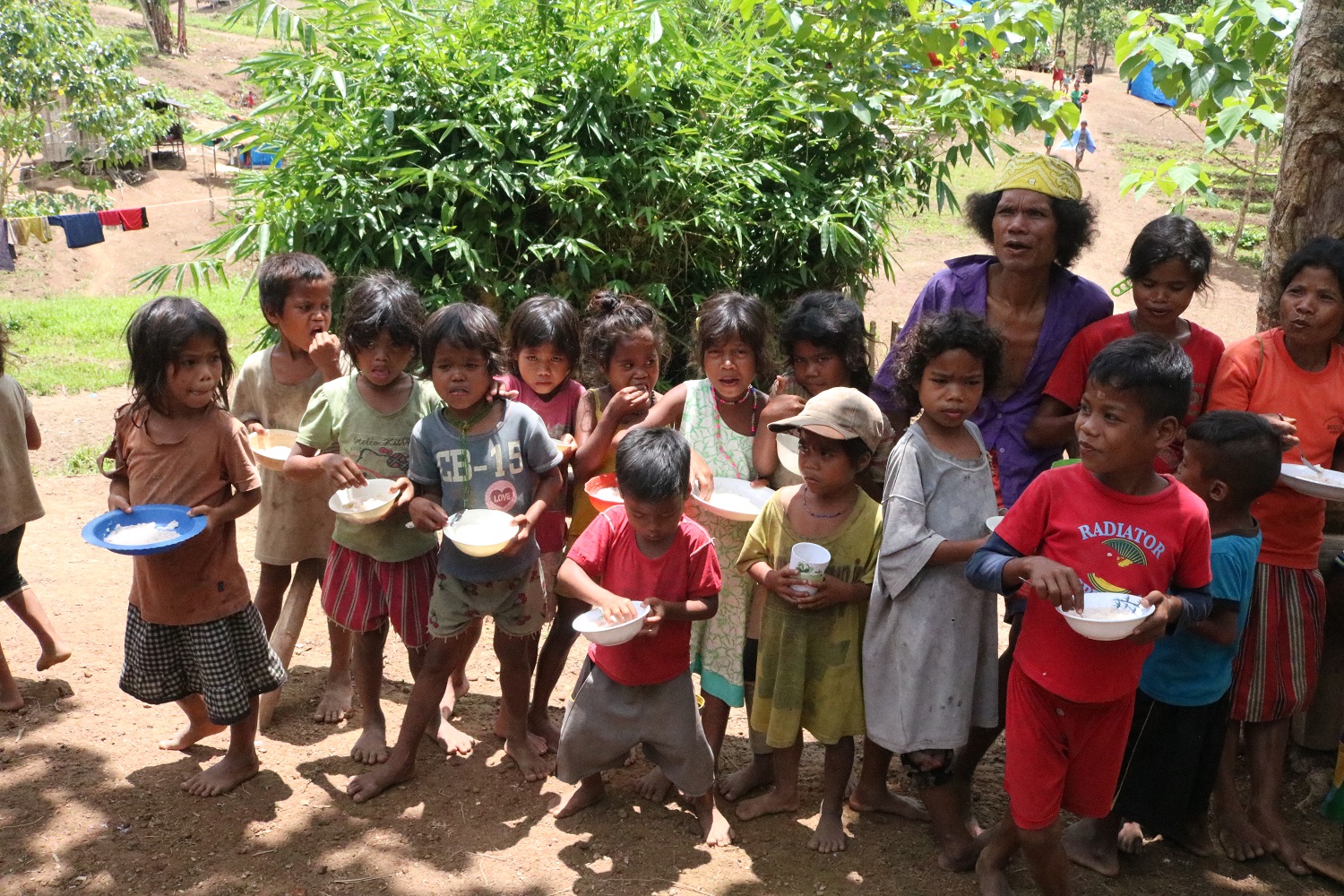 A Lumad family enjoys rice porridge prepared by the elements of the 60th IB in the isolated Sitio Tapayanon, Gupitan, Kapalong Davao del Norte. Nobags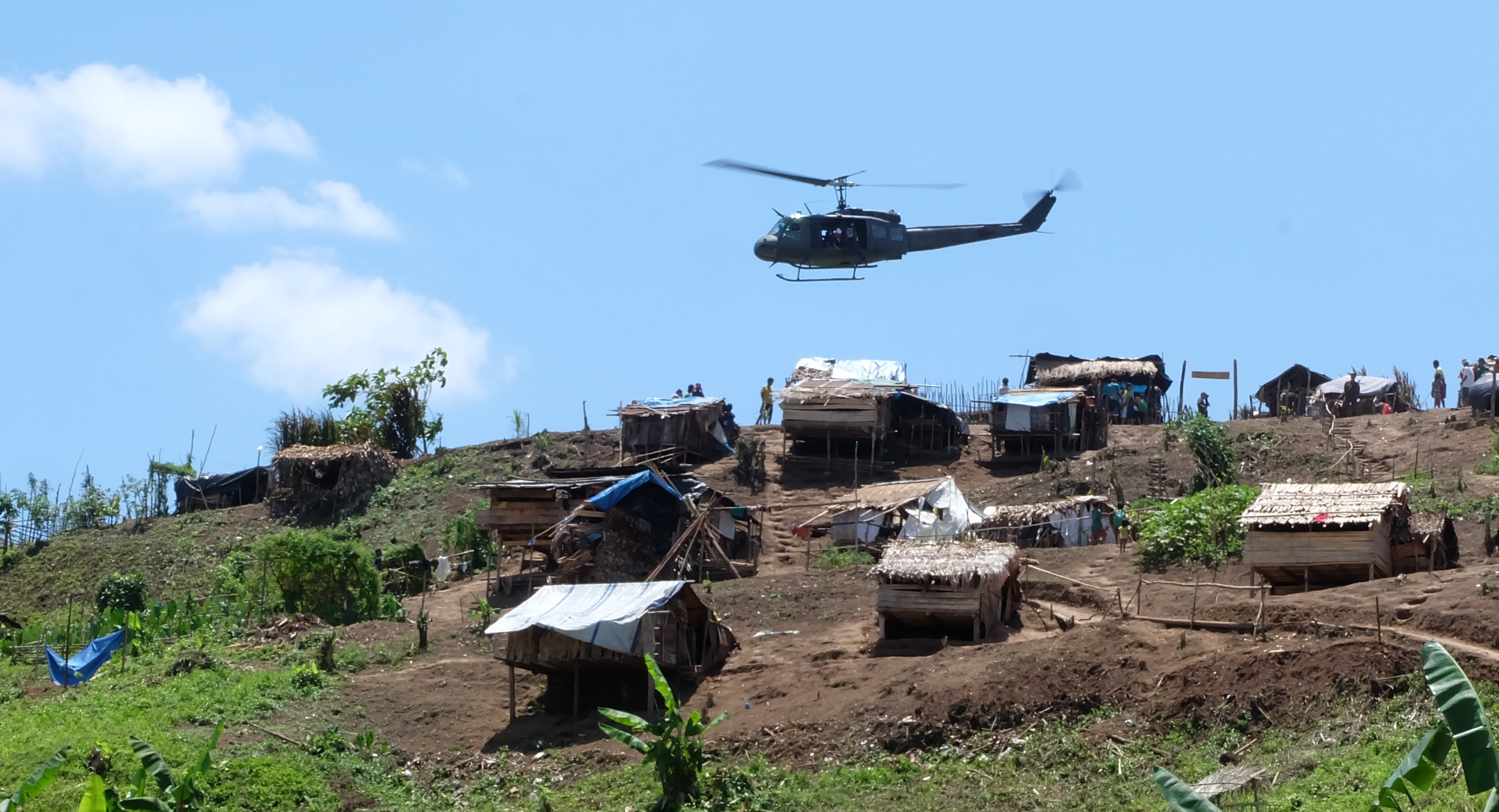 A military chopper delivers supplies and donations during the service convergence in the isolated Sitio Tapayanon, Gupitan, Kapalong Davao del Norte. Nobags