Davao del Norte – Governor Edwin Jubahib said the resolution of the management conflict that hounded the Davao del Norte Electric Cooperative (Daneco) for seven years is a triumph of the consumers.
"Usa kini ka dakong kadaugan sa mga konsumante sa (This is a big triumph of the consumers of) Davao del Norte and Davao de Oro," the governor said at the Reconciliation and Unification Ceremony of Daneco, Inc. and Daneco-CDA.
Violent strife erupted when the management split into two in 2011, with Daneco, Inc. being allied with the National Electrification Administration (NEA), while the latter with the Cooperative Development Authority (CDA).
The two groups insisted on the authority over operations, including the collection of monthly dues, which confused the consumers and caused huge damages to the cooperative.
The governor helped broker the negotiations to find solution to the power shortage that held back the full potential of Davao del Norte for growth and development.
"Access to efficient and reliable energy is at the heart of development," he stressed.
Restoring order at the then strife-torn Daneco entails renaming the power utility into Northern Davao Electric Cooperative (Nordeco), Inc. to emphasize the two provinces covered in the franchise.
Jubahib hopes that the more than 200,000 electric consumers will ratify the renaming and reorganization of the cooperative during the General Assembly on November 30, 2019.
He expressed satisfaction that peace was finally realized between the warring factions within the first 137 days of his term as new governor.
He also acknowledged the key role of former Compostela Valley Governor Arturo Uy and his son, incumbent Governor Jayvee Tyron Uy of the soon to be known as Davao de Oro province, in getting the opposing groups into the bargaining table.
Both Jubahib and Uy vowed to provide employment to the employees of the Daneco-CDA, who will be displaced by the reorganization.
Also present during the signing of the unification agreement were Davao del Norte 2nd District Congressman Alan Dujali, NEA Administrator Edgardo B. Masongsong, NEA project supervisor for Daneco Mario Angelo M. Sotto, the representatives of DavNor 1st District Congressman Pantaleon Alvarez and ComVal 2nd District Congressman Ruwel Peter Gonsaga, members of the Board of Directors of both parties, army and PNP officials, as well as the members of the local media.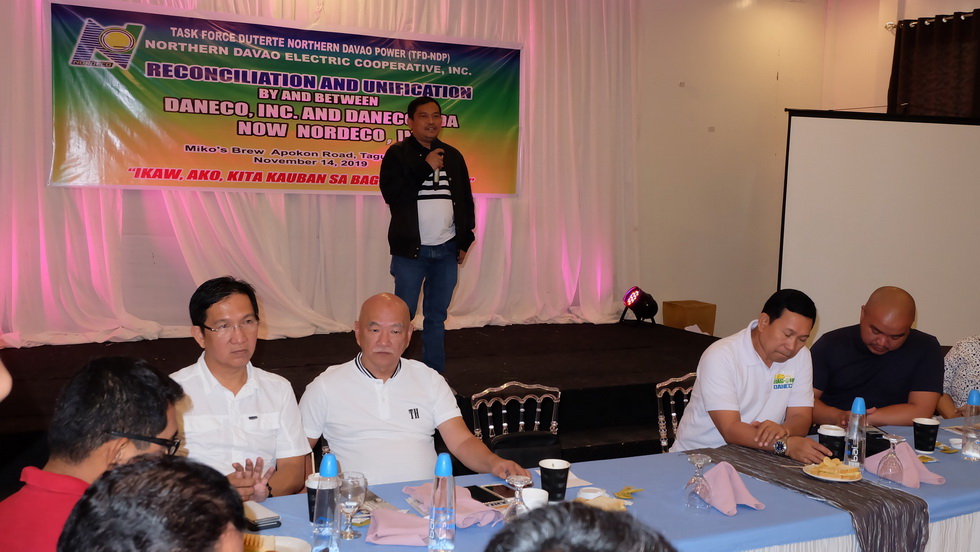 DavNor Governor Edwin Jubahib says the reconciliation of Daneco, Inc. and Daneco-CDA is a great victory of the people. Nobags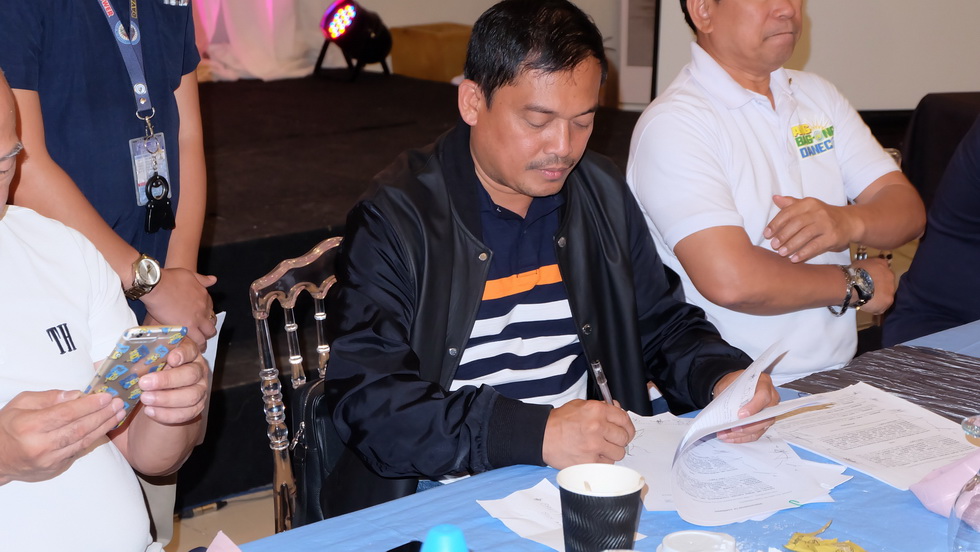 DavNor Governor Edwin Jubahib signs the unification agreement of Daneco, Inc. and Daneco-CDA. Nobags