Davao del Norte – Governor Edwin Jubahib is confident with the growth and services outlook of the province, as he revealed his major thrusts and priorities this year.
In his New Year's message to the provincial officials and employees, the governor expressed great optimism that his administration will achieve its goals, particularly in attaining better quality of life, improved delivery of basic services and genuine development.
"With your all-out support, we will attain our thrust of improving the delivery of basic services, particularly for the poor and the needy, as well as in speeding up progress of our province," he said, during the first Monday Convocation of the provincial government at the DavNor Gym, Tagum City.
Jubahib bared his focus on continuing his zero-billing policy for indigent patients, Oplan TABANG outreach program, Oplan Canal flood-mitigation program and road rehabilitation and improvement, among other infrastructures.
Big ticket projects lined up for this year include the P200-million Eco-Tourism Project, DavNor Convention Center, Grand Gymnasium/Activity area, a dormitel project in Samal, and a housing project for the indigenous people, among others.
To expand its local revenue base, the province is set to launch its sand and gravel quarry venture, in order to fund its universal health care program and other basic services.
Jubahib also disclosed the opening of enhanced rural health units in New Corella, Asuncion, Talaingod and Sto. Tomas, as well as a public infirmary in Panabo City.
The governor added the sorghum program will take off next month with an initial production area of about 50,000 hectares, particularly in idle ancestral domain areas and Fusarium-infested banana farms.
The province will start its rice-buying enterprise to help local rice farmers, who are suffering from income loss due to the deluge of cheap rice imports.
The pilot livestock program of the province is further on the list to provide additional income to the farmers, while ensuring the availability, accessibility and affordability of livestock products in the province.
Jubahib also recognized boxing gold medalist Charly Suarez and wrestling silver medalist Jiah Pingot, among other DavNor athletes who brought pride and honor to the province and the country during the recent SEA Games in Manila.
He further awarded winners of the Paskuhan sa Kapitolyo Christmas Village and Christmas Tree Contests, where the City Government of Tagum clinched the top prize of P500,000 worth of projects and check worth P100,000, while the Capitol Orange Vikings Cluster bagged P50,000.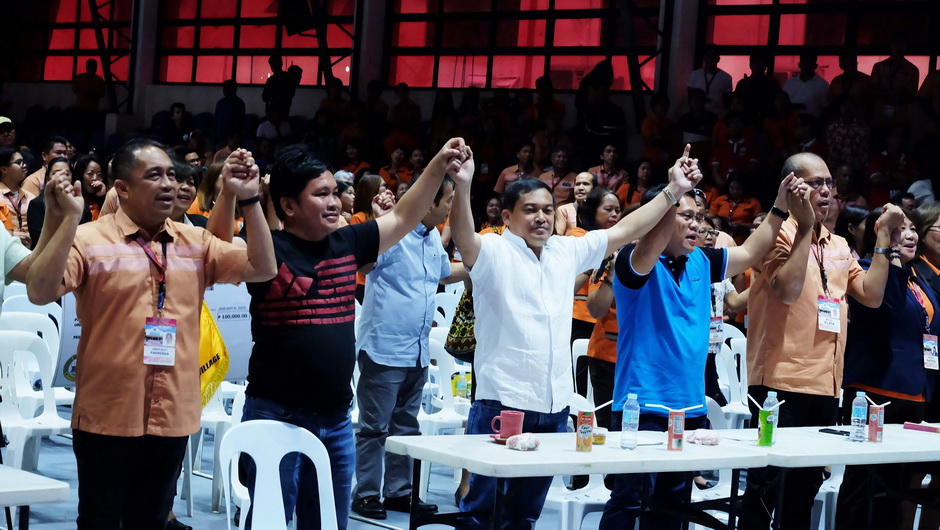 Governor Edwin Jubahib, center, holds hands with Tagum City Mayor Allan Rellon and San Isidro Mayor Arnel Sitoy, during the community singing capping the fist Monday Convocation of the Provincial Capitol in 2020. nobags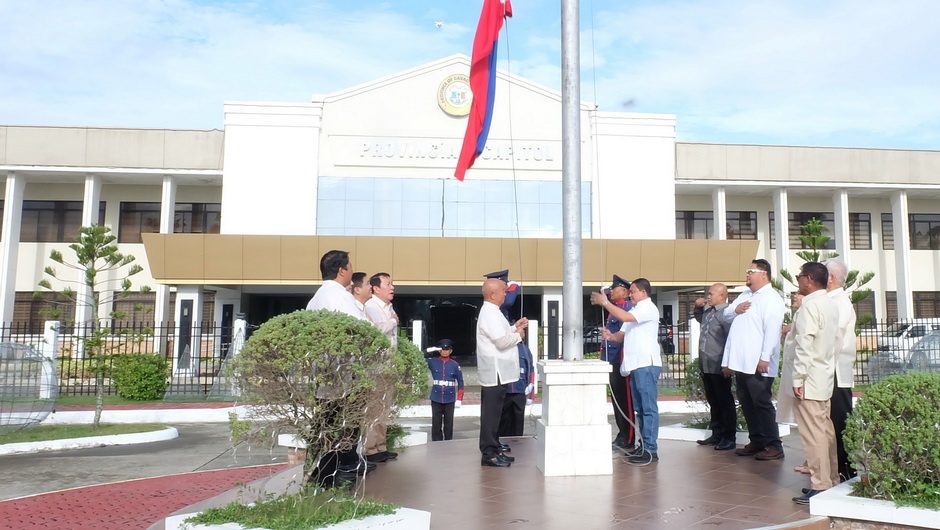 Governor Edwin Jubahib hoists the National Flag at the first Flag-raising Ceremony of the Provincial Government of Davao del Norte this year. nobags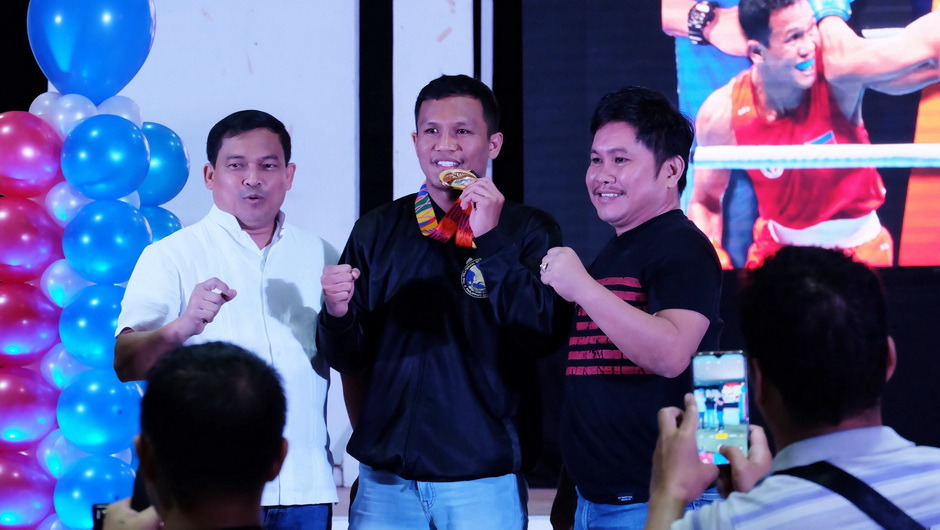 Governor Edwin Jubahib recognizes SEA Games boxing gold medalist Charly Suares, together with San Isidro Mayor Arnel Sitoy. nobags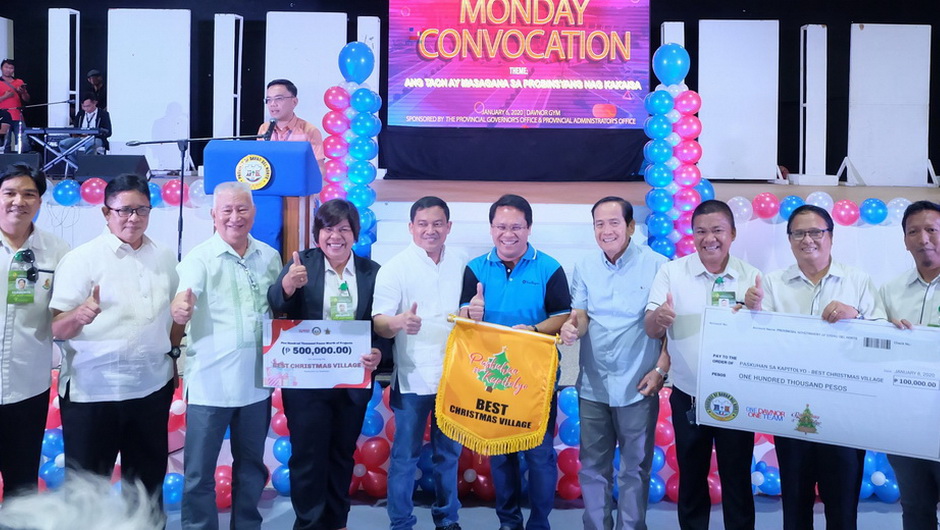 Governor Edwin Jubahib awards Mayor Allan Rellon the top prize of P500,000 worth of projects and P100,000 check for winning the Paskuhan sa Kapitolyo Christmas Village Contest. nobags
Capitol's Orange Vikings Cluster win the Christmas Tree Contests, with a top prize of P50,000. nobags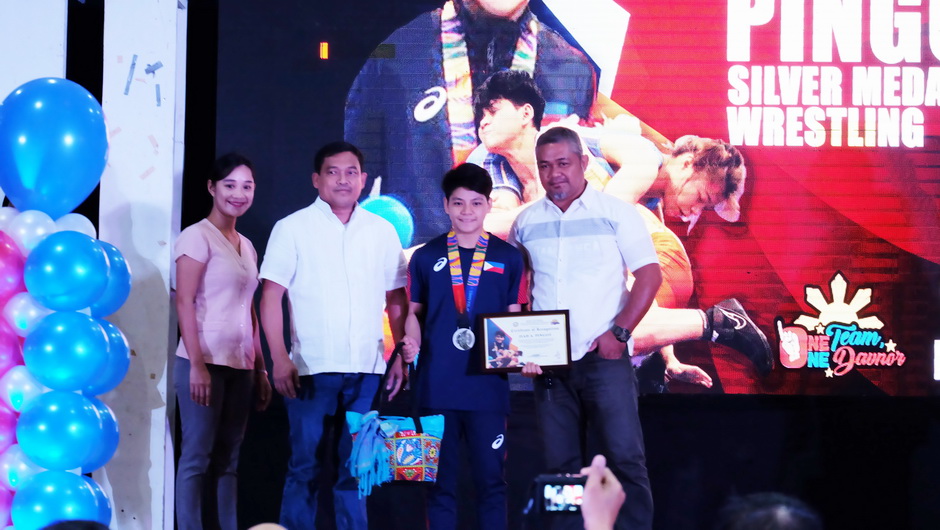 Gov. Edwin Jubahib recognizes SEA Games wrestling silver medalist Jiah Pingot for bringing honor to the province and the country. nobags